News From Stephen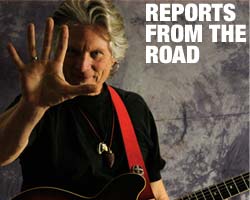 Nov 2006



London Calling

Good Lord has it been that long? Seems like there wasn't much going on so I was waiting until something happened before writing and now it's October and I'm in Europe. Sorry.... Here's a quick update.

May
I was the musical director for the World Congress of Information Technology, the largest international gathering in Texas ever. Pretty wild. Everybody from Steve Jobs of Apple, Michel Meyer from Freescale, Michael Dell from Dell Computers, Condoleeza Rice and Colin Powell were present. We put on a 4 hour who's who of Austin talent from all areas of the musical spectrum. It was great and it was also the only concert I've ever been a part of that got a rave review in the business section of the paper! Later in May I did a short run in North Texas with my band hitting all the metro areas including Commerce, Texas where we did a TV show for my friend Brad Davis for as yet unreleased series. Very cool dance hall in Commerce. I'd love to go back and play a whole night there. I hope Brad gets the show sponsored and aired soon.

In late May I started producing a cd on Waylon Payne that is still unfinished. (Do you spot a trend here?) What was going on in May? Nothing seemed to get done. Anyway, Waylon is a very talented singer and writer and actor. The sessions went well but the studio availability was none so I had to put it on the shelf until later. I hate not getting it done but I will asap.

June
Still working on Waylon's cd but ground to a halt early in the month. Open a show in Corpus Christi for Kristofferson. A real treat to see Kris again for more than just a minute. James Hand came down and we all had a great time. The Resentments record there 4th cd at Wire Recorders in Austin in the 3rd week. I love recording with the Resentments as it only requires 3-4 songs per person and the rest of the time you get to be a sideman again.

July
I went to LA for the first week to write and not one thing goes right. Nothing no answered phone calls, no meetings, no writing sessions then all of a sudden I get a call to do a song with Kristofferson for a soundtrack that Don Was is producing. Some song of Waylon Jennings' that the producer of the movie wants Kris to sing. Turns out pretty cool. Back to Texas then back to LA to work on the NBC series Studio 60 on the Sunset Strip. I play the band leader. Now there's a stretch. So since nothing goes the way you plan it, I get to LA and they tell me that instead of working for 6 days, I'm working only one, the last day. So I call up my old buddy T-Bone Burnett and say, " I'm off for 5 days, let's go to lunch."

To which he replies,"Get your guitar and get down to the studio, I'm working on a song and I'm stumped."

So off I go to Village Recorders and walk into 5 days of nonstop recording for a soundtrack for a big movie that I don't even know the title of and it consists of 35 Beatle songs. My song turned out to be Something in the Way She Moves by George Harrison. Not an easy song. Bone says,"Hey, you know all the musical signatures that identify this song? Like the intro and the instrumental leading up to each verse?".
I say,"yeah..."
He says," Well, come up with something else that's as good. I'll be back in a few hours..." Nice.....
So, I sat with engineer, Emile Kelman and guitar tech Paul Ackling for several days and came up with what I could. Bone would appear every so often and say, " Cool, now do those weird harmonics you do. ...OK, now do a metal version... OK play some kind of classical vibe...." I guess it worked out. Bone says it made the soundtrack. Also, the first night I'm working in the studio, I get a call from Bonnie Raitt answering a phone call I made to her. She says," I'm so glad about tonight."
I say, "really, what's happening tonight?"
She says," We're working together."
I say,"Really. On what?."
She says, "The soundtrack." I say," You mean the Beatles soundtrack I'm working on?"
She says, " No, the one Don is producing. You're singing harmony with me on Bartender's Blues by James Taylor."
I say,"When am I supposed to be there?"
She says,"Right now if you can make it."
I say," How about when we take a break for dinner?"
She says," OK but not too late."
So at the end of the session, I race across town and do another session with Bonnie. Wow. I went from zero to hero with one phone call. Thanks much to Mr.Burnett and Ms.Raitt and Mr.Was.

Oh yeah, I did the pilot for Studio 60 which took all day and was done in one take. I just did the Christmas episode before leaving for Europe with the Resentments. Not exactly a regular cast member, but hell I'll take it.

August
August kicks off with a bang. T-Bone Burnett, Jimmie Dale Gilmore, Joe Ely, Cindy Cashdollar and Jessie Colter and yours truly go to the Alamo and have our picture made for...Vanity Fair? Yes, Vanity Fair. The November issue with the pictorial of country music. I think we were included as the ones who blur the lines. It's like Delbert said to me once a long time ago," If there's a crack, guys like you and me are going to fall through it." Except for a couple of gigs, August slowed to a crawl.

September
Still crawling until mid-September then I went to LA to work on a soundtrack for a movie that Waylon Payne is doing. Later, I go to Colorado for a festival with the Resentments in Lake City, a hard place to find but a cool place to play. Evidently this festival has been going on every year for a number of years and it's a blast. Something about small town hippie festivals that still smack of a conspiratorial cosmic giggle not seen these days. I miss it.

Then... Another first. The Resentments go to Japan! Some how the little musical sleeper cell got 5 gigs in 6 days. It was a blur but I got a lot of frequent flyer miles and came home with THE worst case of jet lag I've ever had. Unfortunately, when I got home, I also had 4 days of gigs and Bonnie Raitt and band in town. No rest for the wicked indeed.

October
After BR and band left town I went to sleep for 20 some odd days and woke up in time to go to Albuquerque to help my old friend, Murray Kelly's daughter Nicky get her songs together to open a show for Marcia Ball at the El Rey theatre. Had a great time and got to use Luis Guerra, a great bassist from Austin who now resides in New Mexico. We were an acoustic trio that night and Nicky really did well. The audience really responded to her songs and Marcia Ball's got a new band with Cory and Mike Keller on drums and guitar, a new saxophonist and Don Bennett on bass. She and her band really turned it on that night. Both sets were good and I was glad to have been a part of it.

November
Well, things are good herein Brutonia in November. I went to LA and wrote with guitarist, Robben Ford for his next cd,( although I think he may have already got the cd recorded). What a treat, I've been a fan for many years and 3 years ago Robben and I got together and played in Austin and talked of doing a tour together. Well, about a month prior to this I get a call from Robben saying he thought it was about time to do it. I thought he had forgotten entirely but I was wrong. In fact, we're putting a 4 piece band together for February and doing dates in Texas and Oklahoma for a 2 week tour. There are plans afoot for another extended tour as well so stay tuned as it becomes finalized. I'm REALLY looking forward to this tour and if you get a chance to see these shows, I know you'll be in for something special.

Right now, I'm writing while driving from London to Nottingham with my acoustic band of merry men. Yes, the Resentments are back in Europe until mid-December and doing very well, except for Ireland which was a first for us in a couple of ways...

First, it was a first in the fact that we'd never been. For years we've had people say to us," You guys HAVE GOT TO GO TO IRELAND! The Irish will LOVE the Resentments. So, off we went with our brand new cd to play 4 gigs which brings me to the second first we had. Second, 2 of the 4 gigs, in Dublin and Galway we played the entire show for NOBODY! That's right, nobody as in no bodies came to the club. It had a right sizing effect on us. Took the starch right out of us, but not for long. We're on more familiar turf now and things are looking up for our heroes. However, we will return to Ireland's ancient sod again to rule mightily...

There, you have it... Happy Holidays and fallalalalalallalalllaaaa!
June 13th
Well, here it's the dog days of June here in Austin. It's HOT and it's just the beginning of a long summer. No matter, it's busy and busy is a good thing.
I've been playing quite a bit and back in the studio doing a little production work for Waylon Payne. Waylon is a great talent both as a writer and singer but also you may have seen him acting in Walk the Line. He played a young Jerry Lee Lewis. Waylon had a very highly regarded cd a couple of years ago called The Drifter. This effort is very different album with much more variety. I hope to have it finished soon and then it's off to try and get him a deal. Also, I've been to LA writing a bit with my friends, Randy Jacobs and Paul Barrere. I hope to get back soon for more.
The NAMM convention is coming to Austin in mid-July. For those who aren't aware of NAMM it's a convention of musical merchandise manufacturers from around the world. Then main show is in Anaheim, California in January but the summer show is a Mecca for musicians. For all us gear nuts, it's an opportunity to see where our future earnings are going to go. All the bells and whistles and gadgets that make your guitar sound like it's underwater are there. Three days of drooling and conversations about musical minutiae. I'll be playing a showcase for Austin based Collings Guitars on the 15th of July followed by a gig at the Saxon. All dates are posted on the tour section of this website.
The WCIT convention came and went and it was a great success. It was the largest international convention ever to hit Austin. I got to see Lyle Lovett backstage and catch up with him and his band. The Wednesday night concert that we did was a resounding success. I hope to have a video clip for the website very soon. Keep watching for that. It was sponsored by Freescale and they did a great job of making things go well. I hope to do more events like that. It's nice to get to do large scale shows like that.
I hope to have some West Coast dates perhaps for August so stay tuned. Also, it's almost time to start thinking about the next cd. The Resentments are going in the studio in a week or so to record our next cd and Europe is in the plans for November.
So as you can see, there's no rest for the wicked.
May 2 2006
Wow. I seem to have been too busy to write. Sorry, sometimes it seems like what I'm doing isn't newsworthy but more of the same. However, whatever I've been doing has been taking all my time.
Since our return from Europe, I've been gigging as much as possible around Austin. I did a solo show up in Dallas last week and had a great time. Cool yoga studio that has acoustic shows on the weekends. Small crowd but very gratifying in that I've never had much luck in Dallas, but this venue actually gets a "listening" audience. I played close to two hours before I had mercy on the folks and quit. I'll be back a the Bend Studio on June 22nd opening for Bob Schneider.
I've been enjoying the Resentments gigs on Sunday nights. Whatever lineup presents itself, it's always a blast as we don't really know what will happen. We've had some guests lately, including Waylon Payne and last week, James Pennebaker sat in on fiddle.
For the last few weeks I've been busy being the musical director for the WCIT. The World Congress of Information Technologies. It's a huge international event held every two years in different cities around the world. Anyway I hope to have all the pertinent info on the website very soon. Anyway, the concert tomorrow night will have me and my rhythm section of Brannen Temple and Yoggie Musgrove as well as keyboardists Stephen Barber and David Boyle as well as my old friend James Pennebaker, taking a break from his gig with Big and Rich to play fiddle, steel, and guitar with us. We also have three piece horn section with Mark Gonzales, Ephrain Owens, and Phillipe Vieux. We're backing up 19 different artist from Texas. The lineup is pretty ridiculous including Brannen's group, Blaze, Carolyn Wonderland, Lisa Hayes, James Hand, Terry Allen, Lou Ann Barton, poet Raul Salinas, Malford Milligan, Joe Ely, Buddy Miller, Jaime Toomey, Neal McCarthy, gospel group, Perfect Praise, Johnny Nicholas, the Tosca String Quartet, James McMurtry, Warren Hood and the Hoodlums, and Bob Schneider. How's that for a cavalcade of talent? So that's been taking a little bit of time. Oh yeah, the following night we're opening a concert for Little Feat at the Austin Convention Center for the WCIT.
Then there's another thing happening in LA that I won't comment on until it's for real. But it's big...
Hope to get writing again for the next cd soon. I've got a few new songs but the well is filling up and I feel a new batch of songs will emerge. I've never been too prolific but inspiration is high and that's a good thing. Now if I can just just find time to sit down and actually get to work. I'll write again after the WCIT events. Later....
February 24 2006
Well, I have a whopping 1 1/2 hours until soundcheck at the Borderline here in London so I thought I'd try to update out tour of the Netherlands, Germany and the UK. It's been pretty grueling but fortunately, we have very good tour manager, Jan Veltman, who has driven us, interpreted for us and done sound in every conceivable venue you could imagine every night. This guy is gold on the road. Our first few gigs were in the Netherlands and from the beginning our audiences have been very vocal in their support, ( well the UK audiences are vocal, but after the last song. They're just soooooo polite.) after Hoorn, Nl we were off to Hannover, Germany where we played the blues Garage, a big venue in a small industrial section of town. Henry, the owner and his wife were great to us in their hospitality and the audience wouldn't let us off the stage. I sold lots of cd's and talked to everyone that wanted to until finally we headed back late that night. Then, the combination of jetlag and one nighters set in and suddenly Schwerin, Hamburg, and Frankfurt were behind us. I remember having breakfast with Edgar Heckmann, our distributor in Germany and a good friend and then we were on the ferry to the UK. I haven't really played the UK except with the Resentments. I did do a few dates over a decade ago and the audiences over here have been peppered with people who saw those early shows. It's very gratifying to have people come back to see your show after all these years. After Bedford was Nottingham and me and my band of merry men had a ball at the Maze, where we had a very good crowd, both in numbers and exuberance. Next was Newcastle where we played at the Sage Music Center which is in this VERY modern glass building on the Tyne River (?). It looks totally incongruous with the rest of the city which is one of my favorite cities in England. Anyway, we played in a small concert hall in the center and it was well attended beyond what I expected. I felt like I was screaming in church with everyone seated and very reserved until the last few numbers. Glasgow, Scotland was one place I had played once solo and a couple of times with the Resents but never with my band. We lucked into being booked at the best venue in the city, Oran Mor, which is a cathedral that has been turned into a couple of venues. It's beautiful! They treated us like kings and lo the hotel was across the street! it was short lived as we have to get up at 6:30 am to drive 8 hours to Maidstone, England for a gig last night. We were pretty tired but the gig was really fun and everyone had a good time. We got here to London early enough to walk around but my walk in Hyde park was cut short by a rather intense sleet storm that took me by surprise. No bother, I'm happy to be here and in a great old hotel, The Columbia which has housed many a weary musician over the years. Anyway, the Borderline gig was a surprise. We had a good crowd some of which had traveled as far as Sweden and the south of France to see the show. My only complaint was that we only got to play for about an hour and fifteen minutes. I think we could have used some more time and the audience definitely wanted more. However, the real surprise was seeing an old friend and actor buddy of mine, Nick Woodeson, who I hadn't seen since 1979 when we filmed Heaven's Gate in Kalispell, Montana for 6 months. I have seen Nick in many movies since then and most recently as a principal character in the HBO series "Rome." I was a real treat to reconnect with an old friend. Worth the whole tour.
Now it's 3 days later and we're back in Amsterdam. It's good to b ein one place for the last days of the tour. Last night we played Leiden and tore the place up. Felt like we let off some steam. Today we play an radio show and a concert in a soccer club(?) somewhere in Amsterdam. Then tomorrow we're playing an acoustic concert before we fly home. Brannen will be flying to Spain to play a jazz club with friends for a week. Sounds exotic doesn't it?
Anyway, I'll have photos and more news once I return but until then this is your intrepid reporter signing off from Amsterdam...
January 6 2006
Welcome to 2006, ya'll! I hope everyone had a great holiday season on new years. I feel like I finally stopped moving. I'm off until the January 19th at the Mint in LA. Then I'm playing at the NAMM show in Irvine on the 20th for the Paul Reed Smith Guitar party. After I return to Austin, it'll be time to get on Delbert's Sandy Beaches Cruise for a week of fun in the sun before Yoggie, Brannen and I cross the pond for our European tour in February. This year is kicking off with a bang.
As far as our last West Coast tour, it was great. Starting in Phoenix at the Rhythm Room, we tour up every gig, or at least it felt like it to me. It was good to play places we hadn't been before and I was pleasantly surprised at the turnout every night. I did a solo gig in LA at a little known venue, Trilogy Guitars in Playa del Rey. Very nice acoustic room. My friend, Steve Postell, opened the show. Our trip up to the Bay Area was a treat, as usual. I played a solo set at Slim's for a benefit for a good friend and fellow musician, Billy Lee Lewis. Bill is a fixture in the Bay Area and although I'm not part of the scene, they all made me feel like it that night. Roy Rogers, the reknowned singer and guitarist, organized the event and the New Riders of the Purple Sage, Norton Buffalo, Roy Rogers, Johnny Colla and his band and Tommy Castro and his band with Coco Montoya sitting in finished the night. There were others but the names escape me now. The gigs in Mill Valley at the Sweetwater, Stimm's BarBQ in Santa Rosa and Mo's Alley in Santa Cruz were all great and I only wish there were more in that part of the country. Brannen left after the Santa Cruz gig and my good friend and drummer, Dennis Kenmore flew out and joined Yoggie and I for the last two gigs in Albuquerque and Alpine, Texas. He did a great job and came back to Austin to play with the Resentments that Sunday. I got to say I was tired of driving so it's been good to be home. It's hard to get me out of the house these days.
I hope all of you reading this have a great new year and I hope to see you all sometime this year. There will be more tour dates showing up very soon for the spring on the East Coast. Get ready for the singing truck driver... Please write and if you have any gig you think would be cool for me in your area please let me know and I'll look into it. Just remember, no gig too small, no fee too large.
Later, TSB
November 2 2005
Greeetings Cyberfans!
I'm back in Texas after a very busy October with Bonnie Raitt and her band and crew and Little Feat and their traveling circus. I have to say, things couldn't be going better in terms of being exposed to audiences who more than likely are simpatico to my type of music. Both Bonnie and the Feat extended every hospitality to me and every hospitality was appreciated. Even the travel wasn't too grueling.
The first part of the month was with BR, opening shows from Tulsa to Buffalo. I had my band with me and after the first gig we didn't see our gear until we walked onstage for soundcheck. We got used to that very quickly and when we left the tour in Buffalo, we once again looked like the Beverly Hillbillies in our van. All we needed was one of us strapped to the roof in a rocking chair. As I wrote previously, the only thing wrong was there was not enough time to hang with BR and band before or after shows. WE want a rematch.
We did 4 days in and around NYC doing Fearless TV, Sirius Radio, Pete Fornatal's Mixed Bag radio show for WFUV and some sessions I mentioned in the previous news from the road. We went to Philadelphia to the World Café and damn near outnumbered the audience! Ah yes, reality has a way of right sizing oneself, doesn't it?
We left NYC and went to Washington,DC where we did the XM radio show for Jessie Scott and then a brief set at Jammin' Java before the tour was officially done. I bid adieu to Yoggie, Brannen and Tom before they left for home the next morning and my agent, Lou and I drove off looking for Little Feat...
We found them in Wykoff, NY and that's when I joined them, opening there concerts with a 45 minute solo set. Bill Payne joined me on the last few songs. The reception was wonderful and I sold a LOT of cd's and signed a lot of folks up to my website. Feat fans are unto themselves. I've never seen devotion like that. And believe me, that band deserves it. Every show was different every night and always inspiring. HOY! HOY! HOY! Indeed. Solo shows are a lot different than band shows but just as cool. It's just a different dynamic, but I adjusted quickly. But the biggest difference was the fact I was on the Feat's tour bus and didn't have to drive! Talk about a rejuvenating experience!
Anyway, I'm back home for a couple of weeks before rejoining LF in Orlando. Then home for Thanksgiving and then hopefully to the West Coast for a 2 week run and then right after Delbert's cuise we'll be going to Europe for a 3 week extensive tour. Many things are afoot and you'll be told what's up first on a need-to-know basis. Hope all ya'll are doing well and if you just recently signed up for the website, thank you and please write.
Stay tuned........... Stephen
OCTOBER 20 Greetings from the road! Well, it's been busy. We just completed two weeks of opening shows for Bonnie Raitt and what a time it was. We got spoiled completely by their hospitality. Playing in theatre and concert stages is quite a bit different from what we're used to. I sure could get used to those surroundings... I mentioned to BR that in the seven shows I opened for her I played in front of more people than I had in the last ten years. Perhaps it was a slight exaggeration but not by much. More importantly, the audiences were very accepting of my set and I sold a lot of cd's, I got to meet a LOT of people who hadn't a clue of my music. It was very gratifying. My only complaint was there wasn't enough time to hang out with Bonnie and my old buddies in her band and crew. Still, it was great to see them even if it was briefly. As for my band, Brannen Temple, Yoggie Musgrove and Tom Canning, they all played brilliantly every night. The drives were not too long except for one 15 hour marathon but after my solo tour in September, nothing scares me. After we bid Bonnie adieu, we drove to Secaucus, NJ where we satellited into NYC for sessions and appearances at Sirius radio on Rick Allison's Sirius Disorder show, Pete Fornatale's Mixed Bag radio show on WFUV and Fearless TV! I also played a solo set at BB King's opening for Hal Ketchum. I got to do a session with Leni Stern, one of my favorite guitarists and favorite people. Brannen and Tom Canning and a great New York bassist, Paul Sokolow were also on the session and it was very cool. I also did another session with a very good singer and songwriter from NYC, Peter Block. The songs and tracks were pretty much completed but I wound up coming up with a few ideas and everyone was happy. After the New York blitz it was off to Washington, DC where we played a live set for Jessie Scott's Cross Country radio show on XM Radio. Jessie has been a big supporter of mine since my first solo cd, What It Is. I've been trying to do a radio show for Jessie for years and even though we were an hour or so late to the station due to a terrorist scare in DC and the subsequent traffic problems, we made it to XM and did the show. It will be aired, I think, on the 22nd. They'll play 3 times that week. We went from XM to Jammin' Java in Vienna, VA. And played a scorcher of a set that night. Had to play at least one full set before the band packed up and split which happened the next morning. All in all, it was a ball.
Starting tomorrow I hit the road with Little Feat, opening shows as a solo. I'm looking forward to this tour a LOT. This is one of my all time favorite bands and we get along like brothers. I'll be sitting in with them and I expect they will do the same on my set. It's going to be SMOKIN!!!!!!!!! I must close for now but I will update this site as the tour progresses. By the way, there is a West Coast tour for December and the dates will be posted soon. Stay tuned....
OCTOBER 1 Greetings folks! Just a quick note between tours. Hopefully, I'll be updating from the road a little more often but the solo tour was too busy to do so. Ahhhh, the solo tour.. It was grueling but a great deal of fun and very satisfying. I plan to do more of that after the first of the year. Starting with the AMA convention in Nashville things went well. I did a cool set with agreat pickup band of friends in Nashville. Kenneth Blevins on drums from Sonny Landreth's band, Reese Wynans on keyboards best known for his work with Stevie Ray Vaughan's band and now a Nashville A-team session ace and my great friend, Todd Sharp on bass. Todd is one of THE best guitarists and performers I know and stepped to play (very well) the bass on my gig. It went great and evidently has paid off with the powers that be in Radioland as my cd has jumped from #27 to #16 on the AAA charts! I also sat in with the Sin City guys at the Exit Inn and had a ball. I also got to see my friend, Billy Bob Thornton briefly at his release party for his new cd, The Hobo. Check out this cd, it's great. Cool tracks with creepy guitars and Billy telling stories as only he can. It's really cool. Get it now. After Nashville, I became the singing truck driver playing all the coffee houses, bars, house concerts, and casinos I could before returning to Austin 5 days ago. Needless to say, I'm worn out but there's no rest for the wicked so I'm off again, this time with my band, this Tuesday the 4th to join up with Bonnie Raitt for seven shows opening her first concerts of her tour. After that's over I join up with Little Feat to open for them as a solo. I couldn't be more excited about both of these tours. I will have all the dates posted on the website this week as a few of them are still coming in.It also looks like I'll be doing a West Coast tour in early December with my band. I must close for now but will try and write as the tour progresses. For those of you who came to my shows, I deeply appreciate your support and look forward to seeing you all again soon. Stay tuned...TSB
August 2 NEWS
It's been busy here in Austin for the cd release and I couldn't be happier. The cd release last week was well attended and the great Malford Milligan sat in and took it OUT! This Friday, August 5th we'll be back at the Saxon pub for a special 2 hour live radio show for KSGR's Texas State of Mind. In addition to my band, we'll be joined by a four piece horn section for certain selections. My only regret is that all of my friends I had hoped to have join me can't due to their own gigs and conflicting schedules. I am glad everyone's working but they will be missed.
It's fixing to get a LOT busier... Please check the tour schedule and you'll find I'm starting to play a lot outside of Austin. August will find us in California, in Santa Cruz at Mo's alley on the 19th and back in soCal the next weekend on the 26th and 27th. Please come out to see us if you can. We'll be at a new club, Mozambique in Laguna Beach on Friday the 26th and in LA at The Mint on Saturday the 27th. I'm sure to have some guests.....
In September I'll be doing a solo tour from Nashville to the East Coast and back to Texas in time to get the band together and begin a tour opening for Bonnie Raitt for the first part of the month and then an East Coast tour all the way back to Texas by the end of the month. The tour with Bonnie is a real dream come true for me and a great opportunity for me to play before a lot of folks who have never heard me or my band.
November may bring another official West Coast tour, hopefully going from San Diego to Seattle and then down through Utah, Montana, Colorado, New Mexico and back home. It's fixing to get busier indeed.
If I'm playing anywhere near you and your favorite place to hear music, please contact my manager and let him know all the info and we'll try to get there. Remember, no gig too small, no fee too big.
I'll have more dates and news as soon as they become real. Adios, TSB