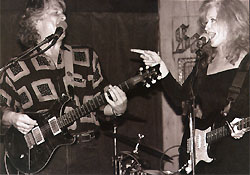 Well, Amigos, we're still in Texas, and we're kickin' off this issue with a true guitarist's guitarist - Mr. Stephen Bruton of Austin, Texas. The All Music Guide (www.allmusic.com) concisely describes Bruton's tone as reflective, wistful, bittersweet, rollicking and earnest. All true, but there's much more to consider here... Bruton grew up in Fort Worth, the son of a jazz drummer and record store owner.............
More from the interview in "ToneQuest Report"
Check out what popped up on MSNBC's site:
SPECIAL TO MSNBC.COM July 16 Right away I know I'm in for trouble if I call the Resentments the best bar band in America.

"John Schulian"

John Schulian is a TV writer-producer in Los Angeles. He writes the weekly column Against the grain for MSNBC's Living section.

Spirit World
Vintage Guitar magazine.

A CD of personal or autobiographical songs can be tricky. The music can wind up meaning far more to its creator than it does to its audience.That's bad. Luckily for everyone, Stephen Bruton's Spirit World avoids this pitfall. His third release of original material combines pithy lyrics with an ample supply of infectious hooks and bridges. Stephen Bruton spent much of his musical career as a guitarslinger in other folks' bands. He's been Kris Kristofferson's lead guitarist for over 17 years, and has been doing time with Bonnie Raitt and Bob Dylan. In '93, Bruton released his first solo album, What It Is, followed by Right On Time, and in '99, Nothing But The Truth. Spirit World differs in its production. It's more effect-laden, but by and large the effects work quite nicely. On Just a Dream, Bruton's voice is processed to sound like it's coming off of an old 78 disc for the first verse. On subsequent verses, we get his full, gritty baritone. Another difference between this and past efforts is the greater R&B influence. Several cuts, including the title cut, have a groove that'd make Joe Tex or Solomon Burke feel right at home. Bruton is a great guitarist, but his playing is not about licks, but rather melody and texture. Even his lead on Acre of Snakes, the hardest rocking cut on the album, is exuberant while coming at you sideways like a rattler in the shadows. If you want to hear a well-recorded acoustic, listen to the pre-war Martin 0-17 on the opening of Hate to Love. While you probably won't hear any material from Spirit World on your local classic rock megastation, that shouldn't stop you from searching for this album in your local CD emporium. Modern music that's conscious of its roots is a rare thing in our painfully ersatz world.
This article originally appeared in VG's April '02 issue
All copyrights are by the author and Vintage Guitar magazine.
- Steven Stone


A plethora of reviews


http://www.greenmanreview.com/spirit.wood.htm

http://www.rockzilla.net/kunz53.html

http://www.austinchronicle.com/issues/dispatch/2002-02-22/music_phases.html

http://atlanta.creativeloafing.com/2002-04-10/vibes_recrev3.html

http://www.nsnews.com/issues02/w042202/044202/artent/043302ae7.html

http://www.oregonvos.net/tta/SBCVIIIBruton.html


"If music were a competitive sport, in a league pitting musicians against each other, there's no
question that the most valuable player on team Austin would be Stephen Bruton."
- Don McCleese, Austin American Statesman
"Stephen Bruton writes new classics. Part country and part Rhythm & Blues and pretty much all rock-and-roll, he's a guitar player's guitar player, a songwriter's singer and the producer of some of the finest alternative country and R&B recordings I have heard in the last few years. His songs contain his own brand of wit and roadhouse wisdom and the observations and reflections of a man willing to look life full in the face and smile."
- Jackson Browne

"Stephen Bruton writes the best brokenhearted love songs for 30 years"-
- T-Bone Burnette

"Texas tempered vocals, Strat-O-Blasted riffs and timeless songs of the heart and soul make Stephen Bruton
one of my all-time favorites"
- Sonny Landreth

"Stephen is a great songwriter, a great guitar player and a great friend"
- Billy Joe Shaver

"Stephen is one of those artists that evolved first as a writer and now is coming into his own. He's great..."
- Willie Nelson

"Bruton is the best songwriter in America. It's only a matter of time until some "brilliant" record executive decides to round-up our favorite singers for the "Tribute to Stephen Bruton" album. I pity the poor souls who try to top the performances on this new record..."
- Don Was

"I always new that Stephen was a great player, but Lord, I had no idea that he was that deep from coming from the song well. I
can't stress how good I think the songs are"
- Lee Roy Parnell